All Myths & Facts about Corona Vaccine you should know.
Covid Vaccine
The rumors of the corona vaccine are coming on the market for a long time but no one has proof that the side effects they facing are from the corona vaccine. Many said that their body became magnet after vaccine some said that they get the high-temperature fever from the vaccine but let us tell about you a true fact check about Corona Vaccine.
Why there are so many rumors about Corona Vaccine?
Since our Central Government announced the Indian corona vaccine it has become a hot controversial topic just because of opposition parties. The opposition's parties were trying to settle their propaganda through corona vaccine they created many fake paid campaigns about vaccine just to prove central Government wrong not only that many old aged people who don't have much knowledge about these things has shared much fake news about vaccine through the Whatsapp that's why people are more curious about the vaccine, but It's also totally a shame thing for us that if a vaccine is made in India then we can't trust on it why? Because it is made in India. Even some news channels and some youtube channels created fake videos about Corona Vaccine.
What are the rumors of the corona vaccine?
Since many rumors are coming out from Indian Corona Vaccine but there are also some facts coming out but people are too confused that which one is a real fact and which one is fake news or rumor then let us tell you the full rumors listed below are totally fake.
After taking the corona vaccine we became invisible.
After taking the corona vaccine we don't even get any fever.
We should not take both doses of the corona vaccine.
After taking both doses of the corona vaccine our body can attract metals and can become a magnet.
Corona vaccine is too dangerous to health
The above point listed above are totally fake and they don't have any sense. If you receive any messages or news through WhatsApp then please don't trust them and please don't forward any news without doing a total fact check of that news.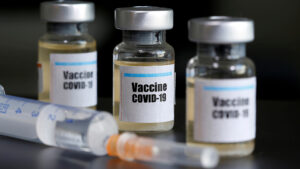 What are the facts of the corona vaccine?
As there are many fake news and rumors about the Indian corona Vaccine but there is also some true and real news mixed in those rumors so people are unable to find them but don't worry we have listed some real facts and real news about Corona Vaccine below:
You can get a high fever after taking any dose of the corona vaccine
The fever due to the corona vaccine is not mandatory you can also get it at a low temperature.
You have to take both corona vaccines.
Before taking any dose of vaccine you shouldn't have drunk alcohol in the past 2 weeks
2 out of 10 people can also catch corona even after taking both doses
So there were some facts and fake news related to our Indian corona vaccine. We hope you are satisfied after reading this article and we have to remind you that please don't share any news with your family friends without doing a total fact check also don't believe in Whatsapp fake news.
Serum Institute of India had submitted safety, immunogenicity, and efficacy data generated on 23,745 participants aged more or equal to 18 years or older from overseas clinical studies. The overall vaccine efficacy was found to be 70.42 percent.
Further, Serum was granted permission to conduct Phase-II/III clinical trials on 1,600 participants within the country. The firm also submitted the interim safety and immunogenicity data generated from this trial and the data was found comparable with the data from the overseas clinical studies.
The UK and Argentina have already approved the Oxford-AstraZeneca vaccine. More than five crore doses of the vaccine have already been stockpiled by its manufacturer, Serum Institute of India.
Oxford-AstraZeneca vaccine will play a major role in India's plan to vaccinate its population against Covid-19 due to several factors — low cost, ease of storage, and transport.
Serum Institute of India this week said that it has stockpiled 40-50 million doses of its Covid-19 vaccine. India is likely to receive a majority of these 50 million doses.
As far as Bharat Biotech's Covaxin is concerned, it is India's first indigenous vaccine for coronavirus. The inactivated virus vaccine is being developed in collaboration with the Indian Council of Medical Research (ICMR) and the National Institute of Virology (NIV).
The firm had generated safety and immunogenicity data in various animal species such as mice, rats, rabbits, Syrian hamsters, and also conducted challenge studies on non-human primates (Rhesus macaques) and hamsters.
All this data was shared by the firm with CDSCO. Phase I and Phase II clinical trials were conducted in 800 subjects and the results demonstrated that the vaccine is safe and provides a robust immune response.
The Phase III efficacy trial was initiated in India in 25,800 volunteers and to date, 22,500 participants have been vaccinated across the country and the vaccine has been found to be safe as per the data available to date.
Who will get the vaccine first?
Based on the potential availability of vaccines the Government of India has selected the priority groups who will be vaccinated on priority as they are at higher risk.
As per the FAQs, The first group includes healthcare and frontline workers. The second group to receive COVID 19 vaccine will be persons over 50 years of age and persons under 50 years with comorbid conditions
How to register for the COVID-19 vaccine?
At present, data of the beneficiaries collected from the government and private health facilities and is being fed into Cowin, a digital platform to roll out and scale up the vaccination drive.
However, the self-registration module will be made available in the later phases of the implementation.