Why Baba RaamDev was giving controversal statements on doctors?
Recently, a few days ago, a video of Baba Ramdev is coming out, in which he is giving a statement on the doctor and allopathy, on hearing which the doctors have got very angry and they have also asked him for an apology letter, even today the doctors of AIIMS Will also celebrate Black Day in India. Some doctors advised to arrest Baba Ramdev.
Baba Ramdev said after turning such a big controversy
Ramdev said, the video presented of him is of a meeting with the workers, in which he read out a message on WhatsApp. But I am sorry if this has hurt anyone's sentiments.
New Delhi: Yoga guru Ramdev has withdrawn his controversial statement regarding doctors and allopathy. The yoga guru has taken this step after the letter from the Union Health Minister Dr. Harsh Vardhan. Swami Ramdev while addressing the Union Minister on Twitter said, "Your letter has been received, I take back my statement with regret and am sending this letter to you, putting an end to this whole controversy of conflict of medical systems about that.
Ramdev in his clarification written on the letterpad of Patanjali Yogpeeth said, we are not against modern medicine and allopathy. We believe that allopathy has made a lot of progress in the field of survival systems and surgery. This is service to humanity. Ramdev said, the video presented of him is of a meeting with the workers, in which he read out a message on WhatsApp. But I am sorry if this has hurt anyone's sentiments.
Earlier, Dr. Harsh Vardhan had said in his letter that doctors and other health workers serving day and night against Corona (COVID-19) are like God for the countrymen. Ramdev's statement has deeply hurt the sentiments of the entire country by disrespecting the Corona warriors. Therefore, he has written a letter requesting him to withdraw his objectionable statement. The Union Minister wrote in the letter, the countrymen are deeply hurt by your remarks on allopathic medicines and doctors.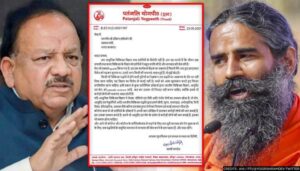 I have already conveyed to you this sentiment of the people over the phone. The doctors and other health workers who are fighting day and night against Corona are God for the entire countrymen. Your statements have not only disrespected the Corona warriors but have also deeply hurt the sentiments of the countrymen. The clarification you issued yesterday is insufficient to heal the hurt feelings of the people.
In this era of epidemic, allopathy and its doctors have given new life to crores of people. It is very unfortunate to say that lakhs of corona patients have died due to allopathy medicine. It is also regrettable to describe the allopathic system of medicine as a farce, useless and bankrupt.
The Indian Medical Association (IMA) has written to Prime Minister Narendra Modi demanding that yoga guru Ramdev be immediately booked under sedition charges for challenging the government's protocol for the treatment of COVID-19 and running an alleged propaganda campaign on vaccination must be registered. The premier association of doctors treating with modern medicine has also sent a defamation notice to Ramdev for his alleged derogatory remarks against allopathy. The Sangh has asked him to apologize within 15 days. He has said that failing this, he will demand compensation amount of Rs 1,000 crore from them. In a letter to Modi, the IMA said that it is a matter of great satisfaction that only 0.06 per cent of the people who had received both the doses of the vaccine in the country got 'slight' infection of the coronavirus and those who were vaccinated got a very severe lung infection. 'Very rare'. The doctors' association wrote in its letter, "It is well established that by vaccination we save our people and the country from the devastating effects of serious infections.