Breaking News: Dhongi Sadhu Baba got arrested in Uttar Pradesh
Today we will share such power in a bar that makes people crazy in a different way. So let's start.
This man has gone to jail many times in the past but his nature has not changed and now he has been caught by Kanpur police. Since he is caught by the Kanpur Police, many of his secrets are coming to the fore.
Found out: This man had previously been dating 32 girls.
Got married falsely to 6 girls.
Now as soon as his arrest is coming to the fore, his wives are also coming out with him.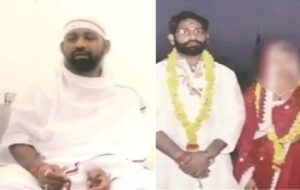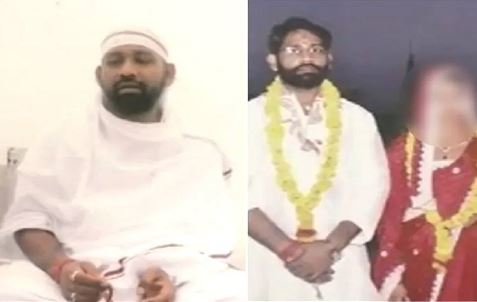 This Baba does not know how many girls' lives were ruined. Those who know Baba closely, they say that their business has been going on for many years. But for the first time, it was exposed when in 2016 he took his own younger brother's wife to Delhi and sold it to some people. Although thankfully she somehow got out of the clutches of those people.
Because of this, that woman has started telling all the women about this Baba one by one. Then the secret of Swami Anuj Chetan Saraswati Ji was revealed to him. Seeing the opening of his kingdom, that baba also tried to commit hooliganism. It is reported that the first marriage of accused Swami Anuj Chetan was done according to their customs:
But after that, he married either in the temple or in the court. A woman like this: with whom he has lived without marrying. Victim women told that this hypocrite Baba took girls and women under the guise of Satsang and proposed marriage in front of them. And the women who used to fall under this bluff, their lives were ruined. 6 In spite of getting married, this Baba was preparing for the seventh marriage, but as soon as this news was sent to the police.
This hypocrite Baba, who has made dozens of women his victim, changes in various forms: Sometimes that Molana, sometimes a teacher, sometimes a policeman or sometimes an officer, sometimes a leader or something else, every time he used to change his form and hunt for a new woman. for this, he used strange methods, earlier he used to talk to them online or on the dating site. And when someone used to get into his sweet talk, he used to talk to him continuously by telling him his wrong image i.e. telling him his wrong identity.
But the method of cheating Swami Anuj Chetan Saraswati Ji Maharaj, a lover of marriage, was also different. They believe more in marrying themselves, not others, they have done half a dozen marriages so far. And still used to be fond of getting married, but it would be good for their wives who opened their poles, this man makes a record of marriages by getting married.
In the investigation of the Police, it was found that he used to deal with his wives after marriage, used to push them into prostitution, and also used to extort money from them.  He used to do all this by giving drugs to women. John had married women, he exploited them, as well as he did not leave his younger brother's wife either. And he sold it as soon as he got the chance.
The wives who did not obey him used to beat them as hostages and in this cycle, one of his wives had committed suicide. Some wives have run away, some wives have been sued. One of his waters says that he should read it till the eighth standard, but he knows 17 types of language. He was proficient in various languages such as American British English French Telugu Kannada Tamil Malayalam. It is not that their wives were given power for the first time, but this complaint had already been registered in this earlier period as well. But he was sent saying that it is a matter of another district. Those women were eaten to register a case in Shahjahanpur, then their elder women also went, but they did not get any justice.
After this, the Bareilly police caught Baba's house and he went to jail again, but even after coming out of jail, he did not change. but started doing the same thing again and then he was caught by Kanpur police.