How Did Corona Spreads in India?Is third wave of corona is near?
Since last year our country is fighting an epidemic named Coronavirus. It is harmful to all. By coming into contact with a person.  There have been two waves in our country, which have had a great impact on the economy of our country, just recently the second wave came under control.
Due to the second wave of this pandemic, our economy has gone into hatred, which is a very bad thing for our country.   The effect of this second wave was even worse than the first wave. People were helpless in this wave. Everyone was saving their lives. Since the second wave of the big Lockdown opened, then people got some relief. But some people are still violating the rule by not paying attention to Corona. For this reason, now the city markets are getting crowded. Which can prove to be dangerous for us.  Let us have a look at some of the city's corona cases. First, we take care of Delhi, then new cases are 228 and according to seven days average is 244. Now let's talk about Maharashtra, which people also know as Mumbai, here the new cases are 7652 and according to the average of 7 days is 10269. Now new cases are 270 in Uttar Pradesh and 489 according to the 7-day average. Now let us see how we can avoid this epidemic. For this, we have to follow some rules which are as follows:   1. First of all, we should follow social distance, in which we have to maintain a minimum distance of 6 yards from the people.
Why did the Second wave of corona come?
After the big corona wave, no one has imagined that the second wave of corona can also come but it happened and shocked the whole of India but the question from this topic is coming that why did the second wave of corona come when everything was fine? many opposition parties blamed the central government for it because BJP was doing elections rallies in West Bengal in which many people was the part of it and none of them was wearing a mask or anything that's why opposition parties blamed the central government but some religious warriors like Khalistan and Qatar Muslims tried to settle their propaganda through the second wave because during the second wave of corona there was famous Hindu festival needs to celebrated which comes once in 5 years so many opposition religion warriors tried to settled their propaganda against Hindu but they failed to do that because our well-educated sadhu saint canceled the celebration of Kumbh Mela.
but if we talk with facts and logic then every one of us is responsible for the second wave because listening to the news of decrease in covid cases makes us comfortable with the situation and many of us start doing gatherings and some of us also stopped wearing a mask and washing hands so its lead to the second wave of the corona.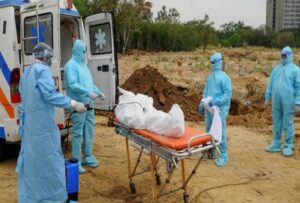 Why India was not ready for the second wave?
During the first of corona, India helped a lot of countries whether in supplying masks and sanitizer or in providing vaccines. India helped every country as a leading country of the world it was so unpredictable that India will also face the second wave of corona but it happened and the whole of India was not ready for it because the second wave of corona didn't come slowly it appears slowly-slowly and lazy people didn't notice that it can lead to the second wave of corona and covid cases was also decreasing day by day in India so no one noticed that and the increase of covid cases in India was a piece of sudden news so it happened.
If you want more news like that then please stay connected with bloggerfeet.com because we provide each and every latest news with a perfect fact check.